---
Training
skyBuilders Training takes place at your facilities or ours.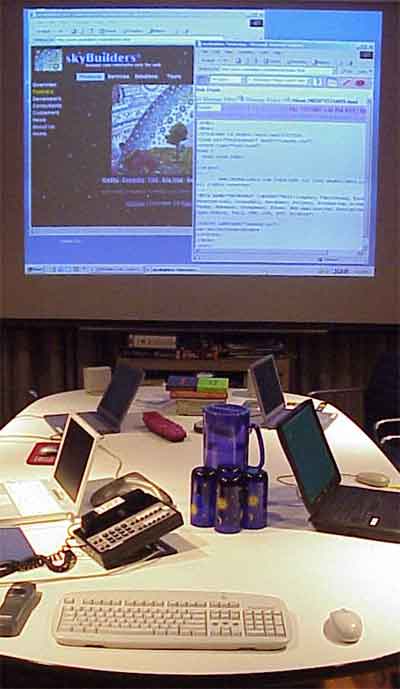 skyBuilders provides each attendee a laptop, PC or Mac
We will train your staff in the use of skyBuilders tools to create and maintain pages over the web, to modernize navigation methods, and provide you with multiple portals as needed (a main home page and similar design sub-sites for distinct parts of your organization). We can also train them as needed in the use of skyBuilders tools for Content Management, Commerce, Community Building, Events, Resources, and Project Management.
When you launch, you will have newly trained webmasters on your staff who can maintain your web site from any web browser. Your ongoing maintenance costs will be remarkably low because we aim to make you independent of further development fees.
You will also gain access to the latest web-based management workFlow tools. Isn't it time to manage your enterprise over the web?
The first step is an evaluation of your web site ($250). The second step is the Development Site. We can provide a specification for the Development Site to assist you with your Request for Proposals.
Request a Development Site Proposal
Development Site Specification
A skyBox running your production site.
---