This is Help for the Calendar-driven skyBuilders.com "outer" web site. These pages have a menu bar and an optional Calendar.
To make the Calendar appear, click on the skyCalendar link in the page footer. You can use the Calendar to navigate the pages in time.
The skyBuilders home page has no Calendar, so its help is different.
This is not the general Help for skyBuilders timeLines, which is context-dependent and different for every page. For an explanation of the difference between the "outer web site" and the "inner site" that contains the timeLines web application, see Introduction > Site Navigation.
There are two drop-down "select" menus in the menu bar at the top of the page, like the module and context menus in timeLines itself. We use them as a compact navigation tool on these outer site pages to get you familiar with them.

Just beneath the menu bar are one or two rows of hyperlinks or "navigation bars". The upper row is a "drill-down path" (links separated by > symbols) which shows you where you are in the page hierarchy and lets you quickly jump back up to higher levels. For example:
---
---
---
The second nav bar is a set of links separated by | symbols called "pipes."
At the bottom of the page is a third nav bar:
---
Note that the left drop-down menu lets you navigate the same links as this pipes nav bar at the bottom of the page.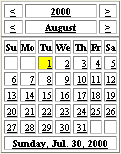 The Calendar on the left lets you see some of the timeLines magic at work on the outer site pages. When you change a date in the Calendar, the skyBuilders server sends you a copy of the right-hand "contents" page that is scheduled ("timeLined") for the date you choose. You are now navigating the outer web site in the time dimension.
When you navigate to other web pages, they are also for the new selected date.
If you click on a date before any Pages have been timeLined, you will be taken to the Persistent Archive (pArc) for the page, which lists all the available versions of the page. If you click on a date in the future...? (It will depend on your privileges!)
The little honeycomb "hive" icon

at the bottom of a timeLined page lets you jump into the persistent archive, and the arrows on either side let you jump to previous and next pages in the timeLined page series.
The current date below the Calendar is a link that always returns you to the current date and time.
Green links open our Glossary page in a new window. When you click on a green glossary link, you jump to the gloss for that link.
Copyright © 2000 skyBuilders.com All rights reserved.