Welcome to skyBuilders newsletter.
March 21, 2005
New England Archivists using timeLines
The NEA site has been rebuilt and multiple contributors are now editing pages.
April 29, 2005
PHP version of skyBuilders timeLines
We are completing the port of timeLines code to PHP. This skyBuilders home site is now running on a Linux/Apache server with server pages written in PHP. After completing the move of skyBlogs to PHP, we will create a new project at SourceForge for skyBuildersPHP.
April 17, 2004
BloggerCon II
The second (and maybe last? - Dave Winer is leaving Berkman) BloggerCon at Harvard University Berkman Center for Internet and Society was a big success. We videotaped most sessions and they will soon be streaming on the web from media.skybuilders.com
We launched a website for CM Professionals - a Content Management Community of Practice. It uses our new skyTalks tool with Speaker and Listener synchronization. A drop-down menu shows the number and names of logged-in participants.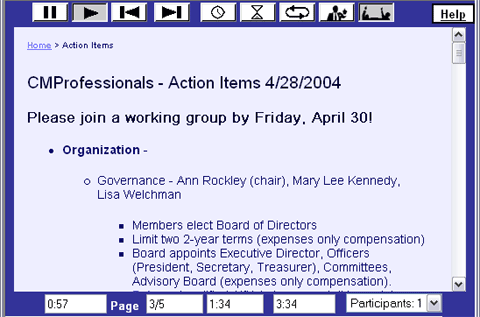 We are generating a Glossary of Content Management terms on the CMS Wiki. You may try it here.
January 20, 2004
New Cambridge School Volunteers site
CSV launched a new design running on a timeLines server.
December 12, 2003
skyPipes Advanced Router aggregates multiple ISP connections, is available from SourceForge.
The skyPipes Advanced Rules and Routes Configurator, Advanced Router for short, is Free Software (under the GNU General Public License). It implements a secure PostgreSQL database-backed Apache/PHP web application on GNU/Linux to maintain an iptables-based firewall that translates multiple routable IP addresses to one non-routable IP address and back again using a combination of Network Address Translation, Static Alternative Routes, and Dead Gateway Detection.
December 9, 2003
skyBuilders and Rolling Turtle Productions collaborate on the development of a Universal Media Controller
The UMCo controller opens media files in media players already installed in a browser, but it hides any logos or advertising in the media player and defeats subsequent popups.
Click on the image for a sample, deployed at Chris Lydon's BOPnews.com...
November 15, 2003
Christopher Lydon and co-bloggers launch a news site- BOPnews.com
Christopher Lydon, Jay Rosen (Dean of NYU School of Journalism), Matthew Stoller, Stirling Newberry, and Jay McCarthy collaborate on the BOPnews.com site for the Blogging of the President, built and hosted by skyBuilders.
November 10, 2003
David Pearson's three homeless sites updated for the NALDA conference in Seattle.
Boston Homeless, Mass Homeless, and US Homeless all have skyBuilders timeLines facelifts.
November 4, 2003
One year before the 2004 election, we launch a skyBuilders site for Christopher Lydon - The Blogging of the President..

October 5, 2003
Another conference at Harvard, Dave Winer's first BloggerCon was a great success.

Here is a big composite panorama of Day 1 at BloggerCon from Big Dave Winer on the left, with Chris Lydon holding a microphone and Bob Doyle videotaping in the center, to Charlie Nesson on the right. Thanks to Dan Bricklin for the original pictures we stitched together.
See media.skybuilders.com/bloggercon for audio and video presentations online.
October 3, 2003
Christopher Lydon - BlogRadio
We launched Christopher Lydon's BlogRadio.org website and a companion support site describing research on the latest radio production technologies at BlogAudio.org.
September 10, 2003
Bob Doyle and Derek Doyle to Gilbane Conference at Seybold Seminars, San Francisco
skyBuilders CEO Bob Doyle spoke and moderated two sessions, including a BOF on CMSML.
Derek Doyle was a moderator in the New Technology session.
The opening panel "Can't We All Just Agree on How to Evaluate a CMS" included Bob Boiko, Bob Doyle, Tony Byrne, and Brendan Quinn (of Clueful Consulting).
Major objectives for the show included getting CMS vendors to edit their data in the CMS Review Feature Comparator, understanding the ODP listings, getting CMS Consultants familiar with cmsconsultants.org, and introducing the CMS Vocabulary/Glossary/Thesaurus project at cmsglossary.com
August 15, 2003
skyBuilders ASP version now a SourceForge project.
June 1, 2003
Media Server at skyBuilders
media.skybuilders.com is a new testing ground for rich media types at skyBuilders. We are serving Real Media files and MP3 audio of the OSCOM presentations.
We hope to develop novel ways of displaying audio and video in skyBuilders applications.
May 28-30, 2003
OSCOM Conference at Harvard a great success
We participated in the planning and execution of the conference, videotaping 35 hours of sessions and editing them for streaming from Berkman Center servers and our own media servers.
skyBuilders is developing audio and video interfaces, especially for inclusion in our skyTalks and skyLearning modules. AV interface tools will be built in Dynamic HTML and Macromedia flash. And we are building streaming servers for MP3 audio, QuickTime, Real Media, and Windows Media.
See media.skybuilders.com and CMS Review/OSCOM
We greatly expanded the coverage of open-source CMS at CMS Review, adding about 50 systems.
May 22, 2003
Gilbane Report features our CMSML Project
Gilbane Report volume 11, number 2 is about CMS Classification and Evaluation, written by Bob Doyle, Gregor Rothfuss, and Frank Gilbane.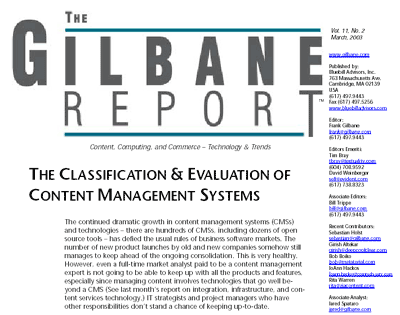 May 12, 2003
skyBlogs produce RSS feeds
skyBlogs export RSS news feeds in two formats, RSS1.0 and RSS 2.0. The first draft of the skyNews Aggregator is underway. It will automate the aggregation of blog posts from all the organization's bloggers, creating a corporate blogging tool.
May 1, 2003
A faceted CMS Directory
CMS Review now includes a powerful faceted Directory of CMS products, with output in Dave Winer's OPML (Outline Processing Markup Language) format and soon in XFML (eXchangeable Faceted Metadata Language).
The underlying technology is the skyShop Product Feature Database also used for the Feature Comparator. Feature data for each CMS is edited by the vendors using skyForms technology, which autogenerates the data entry forms.
April 26, 2003
Boston Cyberarts
The Boston Cyberarts Festival is back for 2003, with the skyBuilders-driven calendar showing hundreds of events.
April 22, 2003
skyBlogs and News Aggregators
skyBuilders timeLines now supports Weblogs or "Blogs." Eventually we will organize blogs and news aggregators into a skyBlogs module. It will feature automatic syndication of blogs in the organization, so each member can easily keep track of others blogging.
The first working weblog is the CMS Review Blog.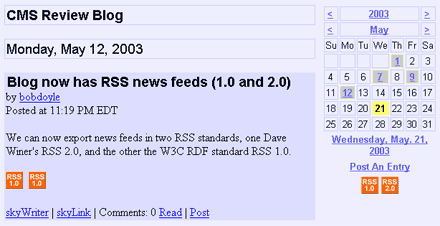 April 17, 2003
CMS Search and Feature Comparator
CMS Review added a unique Feature Comparator tool that puts two CMS side by side, feature by feature. It is based on the skyShop product database.
It outputs data in XML and RDF for the semantic web. The XML is in a markup language called CMSML, which is being developed by CMS Review and OSCOM, with the collaboration of the University of Washington iSchool CMS Evaluation Lab.
To get working examples of XML or RDF, choose a CMS product in the List and click either the XML icon

or the RDF
icon.
These tools are sent as "info feeds" to the following CMS-related sites.
CMS Review
Content-Wire
cmsInfo
OSCOM
April 10, 2003
Port to Linux

We completed the port of skyBuilders code to Linux/Apache/PostgreSQL/PHP today. Downloads of the new code are online at http://www.skybuilders.com/Download.html
Our XPP (Extreme Pair Programming workstations)
April 8, 2003
David Pearson on Cover of Mass High Tech
The executive Director of Shawmut Education and creator of Boston Homeless was interviewed recently.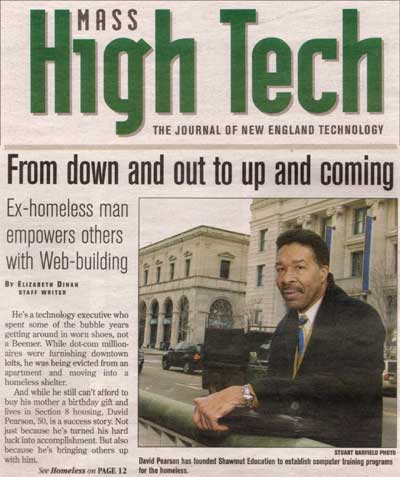 April 7, 2003
Courageous Sailing
Courageous Sailing Center, the best sailing on Boston Harbor!, now is sailing its web pages on skyBuilders servers.
skyBuilders shipped two skyServers, one Linux and one Windows, to the Container Project in Jamaica today. We also sent networking hubs, cables, a dialup modem, and a sophisticated router to share the Internet connection. We now have five machines in Jamaica.
March 5, 2003
Container Project
mervin Jarmin's Container Project in Jamaica is now running on skyBuilders servers.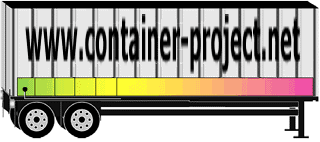 January 25, 2003
skyBuilders Training
Shereece Williams of Computer Repair Center (and Dawn Vaz of Reverence for Life) came from Jamaica for three days of training in timeLines.
January 17, 2003
Berkman Center
The Harvard Law School Berkman Center for Internet and Society held a day-long conference on economic development, with one hour devoted to Jamaica.

Bob Doyle and Jamaican filmmaker Barbara Blake-Hannah made a 25-minute film on Digital Music and Web Publishing in Jamaica featuring skyBuilders tools. It is available on the web.

WayneandWax.org is Wayne Marshall and Rebecca Nesson's web site reporting on their digital music and web publishing project in Jamaica.
We shipped two more skyServers to Jamaica to be installed at the Infochannel Data Center and the Cable and Wireless Data Center. They will host sites for Kingston schools and for other parish schools in Jamaica.
We also built a skyServer to be installed at 5 Hubbard Park. It also will host Jamaican sites managed by Rebecca Nesson.
January 2, 2003
We have begun the port of 350 server pages from ASP to PHP. We now hope to have our first preliminary release in late January. We need it for the MuseumsIn.TheSky.com project, and to build really low-cost skyBoxes for Jamaican schools.
We are also preparing the launch of CMSReview.com, a resource site for content management systems. skyBuilders will be studying various CMS products to find an open-source package for integration into timeLines.
We will present CMSReview.com officially at the third OSCOM conference, in March at Harvard University Berkman Center for Internet and Society.

December 15, 2002
skyBuilders is going international. We shipped our first skyServer out of the country this week. It is in Kingston, Jamaica where it will be part of the renovated Rockfort Community Training Center operated by CyberU Jamaica and Reverence For Life.
David Pearson, our leading skyBuilders tester and operator of several timeLines websites (including Shawmut Education and Boston Homeless) will be in Jamaica until December 23, training the trainers at Rockfort, and meeting with Jamaican Ministers of Technology and Education. He will bring equipment to outfit a new Training Center at Rockfort in Kingston.
Harvard University Berkman Center for Internet and Society and skyBuilders.com are supporting production of a documentary film on the introduction of skyBuilders tools into Jamaica. The film will be made by noted Jamaican filmmaker Barbara Blake Hannah.
November 30, 2002
The Holiday season finds us with several new tools, and some exciting developmental sites launched.
New tools include:
skyStyler and skyTagger for adding CSS styles to documents inside skyWriter. skyStyler parses style sheets for all the classes and ids, and presents them in drop-down boxes for easy tagging of selected text in skyWriter.
skyPorter, the tool to convert all our ASP pages to PHP, is back in development. We hope for a PHP release before the end of the year.
Upgrade and our Download packages now include starting navigation styles (for menu and submenu) and a starting navigation panel.
New websites include:

Bob Doyle spoke on Content Management Systems at the Boston Regional Conference of N-TEN (Nonprofits - Technology Enterprise Network). The presentation is available as a skyTalk. We are designing templates and page content elements for skyWriter to make our skyPages a true Content Management System.
November 15, 2002
The Summer and Fall of 2002 has been a very busy development period. We completed several important milestones, including:
skyPages publishing workflow, including check-in/check-out
User Reports
skyForms can register new users into specific groups
WYSIWYG Visual Editing is now part of our skyWriters, in-browser editing on all platforms (Mozilla), plus an Internet Explorer version. See wysiwyg.skybuilders.com.

skyWriter Text Editor has several new features, including:

Tags, several HTML copy and paste samples
getURL, a page grabber tool
toHTML, quick conversion of umarked-up text to HTML
Tidy, the W3C service to fix broken tags and indent code cleanly (with links validation option)
and WYSIWYG, the entry point to skyWriter Visual Editor
skyBuilders hardware developments now include firewalls (skyWalls) and ISP Internet connection ("pipe") aggregators that allow two or more ISP pipes to be arranged in a fault-tolerant, high-availability configuration. We had to patch the Linux kernel to achieve this performance. Now small organizations can use multiple low-cost, high-speed DSL connections to achieve mission-critical Internet connectivity.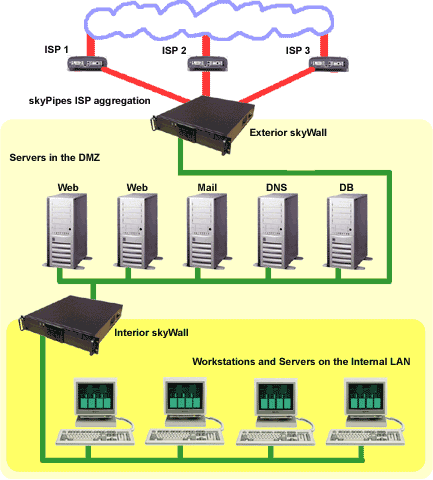 We can now supply complete skyBox turnkey systems for small ASPs with skyWalls and skyPipes aggregation. They are well-suited for small organizations with multiple servers and workstations on an internal LAN behind a second firewall (see diagram above) See www.skypipes.com.
We have also launched several new timeLines beta sites:
See the
complete list
.
August 1, 2002
skyCAPS are Community Access Point Services based on a mix of technology, hardware, and software for management, monitoring, and billing recommended by skyCAPS.net, a subsidiary of skyBuilders.com.
July 20, 2002
Please take a look at our new web site design, which we hope to launch before the end of the year. Your comments and criticisms most welcome.
May 30, 2002
skyBuilders has released the 1.0 version of the timeLines interface. Some 250 server pages have been posted to our servers for download. Two new modules, skyTalks and skyForms, are components of our skyLearning technology. Another new module, skyForums, supports threaded discussion groups.
---
On April 22 (Earth Day), the Environmental Careers Organization launched a new web site based on skyBuilders timeLines technology.
ECO site navigation uses our new Nav Panels generation tool, which automates the production of Javascript rollover links. The navigation scheme can accommodate an increasing number of small ECO programs.
The major programs have distinct "microsites," each with its own graphics, colors, etc., with consistent navigation and ECO look and feel throughout.
Occasional microsites can be easily built for seasonal events like the Diversity Initiative National Roundtable and the National Environmental Career Conference.
Major ECO documents are now online, like their Guide to Environmental Careers, the DI Roundtable Report, and program newsletters - Connections, Exchanges, etc. and Project Advisor Handbooks.
The ECO Online Shop offers Online Registration for their many conferences and online sales of publications.
---
The 2001 Boston Cyberarts Festival is still online with an interactive database of over 1000 events. Cyberarts entered the events in their skyBuilders Events module, using the standard timeLines user interface. But the presentation of the events is through a custom HTML/Javascript user interface called a "skyLight" or "skin."
Behind the scenes, skyBuilders timeLines is running normally. But the look of the festival events schedule is the work of a Boston University web design team led by Agnes Borszeki. Check it out here.
Click on Locations = Back Bay and April 27 to see that day's listing in the skyLight.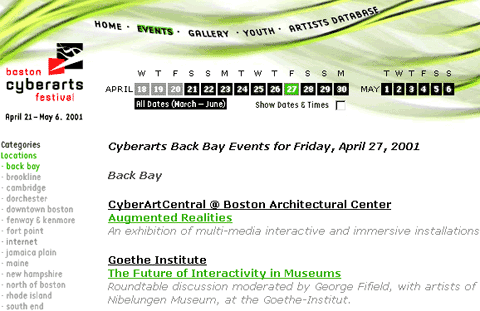 Then compare the same information as it looks in the timeLine listings interface.

---
Boston Film and Video Foundation
now runs their web site with timeLines web publishing tools. Version 1.0 has complete
multilingual
functionality for
skyPages
, our web publishing system software. Shawmut Education and CCTV have a few multilingual skyPages on their sites.
openInternetLexicon.com is now an ambitious portal site with dozens of resource pages for web developers looking to build multilingual web sites. It has new pages on Machine Translation, Translation Memory, Translators, and a new Glossary.
The skyFinder interface for browsing remote files (skyPages and skyForms Publishing and the new skyFiles web storage system) has been further redesigned. The new book icon indicates a series of timeLined skyPages.

The new Master Archive interface includes two levels of password protection for skyPages, and access to Localization functions. Localized files in other languages are now indicated and selectable by their locale codes.

Developer News.
We now have ftp sites on servers outside skyBuilders (at Galaxy and Primus) with zipped copies of all our files (serverPages, database, installer). After a preliminary test showed that only two percent of site visitors were registering, the new Downloads page makes everything freely downloadable by any visitor. On the main site, we also allow anyone to download the source code for individual serverPages. See, for example, Events serverPages.
News on our other Open-Source sites.
openServerPages.com is up and running and registered with some important developer web sites. We will submit it to the search engines soon, when developer registration is functioning.
openDataBaseModel.com is now offering the ODBM rationale and access to all the ODBM tables. You can download data and SQL scripts for each table. You can even download the entire ODBM database.
We want all our Open-Source sites to be operational at the commercial launch and expect them to play an important part in our campaign to reach qualified developers.