This is Help for the skyBuilders.com introductory pages.
There are two drop-down "select" menus in the menu bar at the top of each introduction page. Drop-down menus are used as a compact navigation tool in skyBuilders timeLines, so we use them on our web site to get you familiar with them.
Choosing from the second drop-down menu takes you to short introduction pages on several skyBuilders topics.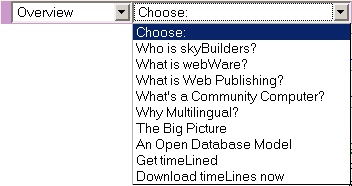 | | |
| --- | --- |
| | To get back to the home page from any page you can always click on the skyBuilders logo when you see it. |
Introduction pages have a three-column format, with main text in the middle, and some important callouts, sometimes with links, on the right.
The skyWriter link at the bottom of a timeLined page lets members with edit privileges edit the page. The Read and Post links allow any visitor to Post a Comment, and Read Comments in a threaded discussion format.
Green links open our Glossary page in a new window. When you click on a green glossary link, you jump to the gloss for that term.
At the bottom of the page is a standard navigation bar with links to many other pages in the "outer site."