---
---
---
Where: 77 Huron Avenue, Cambridge, MA
Phone: 617-876-5680
Directions Yahoo Map: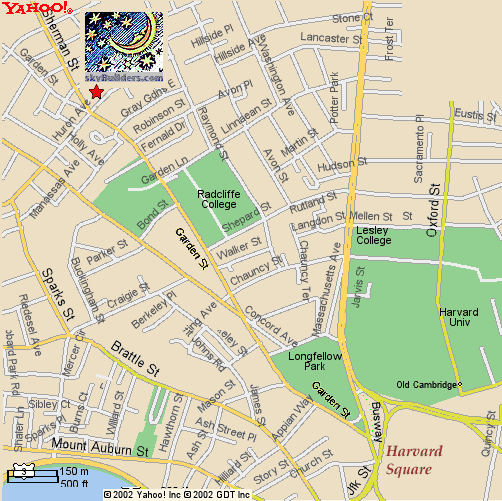 By taxicab: skyBuilders.com is located just under one mile northwest of Harvard Square. Most cabs know how to get to Harvard Square. (From the airport, tell the driver to go by way of Broadway in Cambridge.) Ask to go out Garden Street, past the Sheraton Commander Hotel. Turn right at the fire station (in the middle of the road). 77 Huron is the third house on the left, next to the garages.
By subway: Take the Red Line to Porter Square. You can call the lab (617-876-5678) and we will pick you up at the Gourmet Express Deli across Mass Ave from the T stop (and across Upland Road from Bruegger's Bagels). Or, if you would like a ten-minute walk, go past the Gourmet Express up Upland Road to its end (it curves left in its last block joining Newell Street to meet Huron Ave). Turn right on Huron and we are the red triple decker just past the garages on the right-hand side at number 77.
By car: Rather than negotiate Cambridge's twisting streets, you can approach the lab on major marked roads from Memorial Drive, going West along the north side of the Charles River in Cambridge.
Take Memorial Drive West (Route 2) past the Harvard Square traffic light. At the next light, Route 2 turns away from the river to the right. Huron Avenue is the third major intersection from the river, after the Mount Auburn and Brattle Street traffic lights. Go right on Huron Ave a mile. It narrows down to a traffic light at Garden Street. Then skyBuilders.com is the third house on the left. For major events, public parking is along Huron Avenue on the other side of Garden Street. Ask us for a parking permit to park in front of the lab.
Airport to Memorial Drive: Go through the Sumner Tunnel. Stay in the left lane. When you leave the tunnel, get up on the overhead central artery, and take the second exit, marked Cambridge/Storrow Drive. You will drop down onto Storrow Drive West. Go a few miles, passing about four bridges across to the Memorial Drive side. Cross at the bridge marked Harvard Square, turn left on Memorial Drive. (See Memorial Drive above).
Mass Pike to Memorial Drive: Take the Cambridge exit/toll. When you come out to the Charles River, cross over and turn left (West) on Memorial Drive. (See Memorial Drive above).
Boston to Memorial Drive: Follow signs (or get directions) to Storrow Drive (West). Storrow Drive runs along the Charles River. At your earliest opportunity, cross over the Charles (to your right) and turn left on Memorial Drive (Route 2 West) on the Cambridge side. (See Memorial Drive above).
From South of Boston: From Route 3, or Route 24, or Route 95. Take Route 93 (also Route 3 and Southeast Expressway) to the Mass Pike (Route 90) West Entrance (just before entering downtown Boston). See Mass Pike to Memorial Drive above.
To save on the toll, you can get off the Southeast expressway at Exit 17 and make your way across Boston streets to Storrow Drive, turn West (left) on Storrow. Cross over the Charles river to the Memorial Drive side (at Harvard Square/JFK street) at the latest. Then see Take Memorial Drive above.
From North of Boston: Come down Interstate 93 from New Hampshire. About seven miles inside Route 128 (also Interstate 95), you will turn off 93 on Route 16 West (Medford). Follow Route 16 through Medford and Somerville to Cambridge. When Route 2 joins Route 16 from the right (a major traffic light) you are just a couple of miles from our lab. Follow along Route 2 and Route 16 until Route 16 turns right. This is Huron Avenue. To get to our lab, you must turn LEFT (when Route 16 turns right). Go down a little over a mile. We're the third house on left after the fire station at Garden Street.
From Cambridge Marriott (Kendall Square) to Harvard Square is a bit messy. You must take Hampshire Street to Inman Square where Cambridge Street crosses in a steep X pattern (You'll see a fire station on the left) You will turn left slightly to go out Cambridge Street to Harvard Square. At Harvard Square, you go down under a tunnel. Stay to the left lane. As you go through the traffic light (left) make your way quickly to the right lane and turn right around the Cambridge Common to go out Garden Street.
MEMOZIP-02138-6707
---